Product Description
Wings shows a traditional ballet dance of the Philippines. The graceful movements of these performing artists is well depicted in vibrant watercolor by world renowned artist Jun Martinez. Artist Jun Martinez has been recognized for years as being one of the Top Ten Artists in the Philippines, and his work is known around the world.
Wings : Philippines Dance was created by artist Jun Martinez in 2010. This art piece , which is part of the People Engaged in Activities portfolio, is a Paintings artwork. The style of this artwork is best described as Expressionism, Fine Art, Realism. The genre portrayed in this piece of art is Figurative, People, Portrait. The artwork was created in Watercolor. The size of the original art is 39 (inches) H x 28 (inches) W.
Words which artist Jun Martinez feels best describe this work of art are: wings, philippines dance, philippines ballet, artist jun martinez, top ten philippines artist.
About Jun Martinez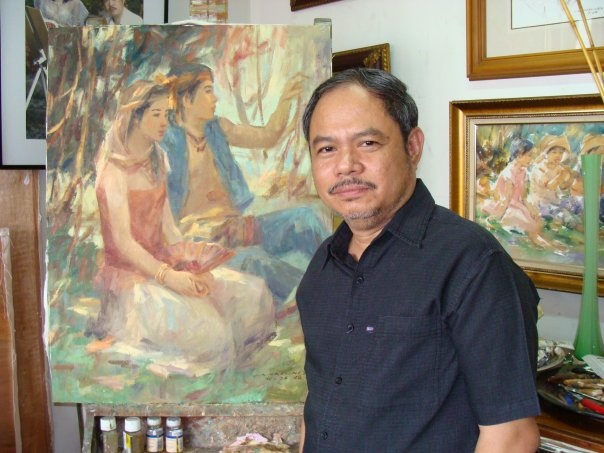 Jun Martinez is a widely collected, award-winning impressionist painter from Manila, Philippines He has mounted 24 solo exhibits in prestigious venues in this country and abroad, most notably his sold-out Summers of Childhood series which showcased luminous renditions of children.
Martinez whose works portray mostly summer outdoor scenes, is recognized for his portraiture and his adroitness in shifting from one medium to another. He was four-times named "One of the country's top 10 watercolorists." Interestingly, Martinez has worked extensively on the subject of "myths and legends."
His works depicting Filipino folktale are featured in three volumes of a book series entitled Myths & Legends of the Philippines by Marlene Aguilar-Pollard. Martinez's works grace the covers and spreads of various books, including The Art Collectors' Guide Book, Art Across the Philippines, 20th Century Filipino Artists, and The Lives and Loves of Artists and Models, all authored by Mr. Manuel Duldulao, and in the Encyclopedia of Philippine Art and Fine Artists of the Philippines.
JUN A. MARTINEZ